Seattle is famous for its stunningly beautiful views of ocean & mountains, scenic waterways, and an impressive skyline. To the west of the Seattle lies Puget Sound & the Olympic mountain range while on the east lies the freshwater lakes and the Cascades.
Undoubtedly, one of the most popular things to do amongst the travelers while visiting Seattle is to hop on a kayak and paddle around Lake Union and beyond. The lake is an important habitat for a diverse range of wildlife, fauna, flora, and is also home to a myriad of floating homes, and an ever changing assortment of watercraft and seaplanes.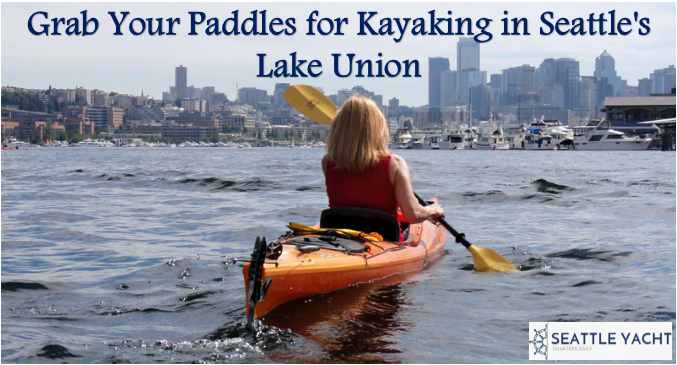 With your own private Seattle boat rentals, you can enjoy kayaking at your own pace and style while discovering the alluring beauty of Lake Union. If you're looking for tips to make your paddling adventure one of the most memorable experiences, then have a look at the below mentioned Seattle kayaking tips and paddle your way to northwest bliss.
What should you wear to Kayak in Seattle?
Most of the time, you'll be dry, hence, there is no need for carrying swimsuit. Comfort and flexibility should always be your first priority. In many cases, there are pedals on both the right and left-hand sides of the kayak to operate the rudder in back, so instead of going barefoot, wear a pair of sneakers, a sweatshirt or a t-shirt (depending on the temperature) and shorts or sweatpants (also depending on the weather). To keep the sun off your head, do not forget to carry a hat. Do apply sunscreen over the exposed areas of your body.
Where should you go to rent a Kayak? 
One of the most delightful ways to explore Seattle and experience kayaking at its best is taking a cruise on the Seattle waterways aboard your own Seattle boat rentals. You get the opportunity to cruise the truly blissful waters surrounding this Emerald City along with experiencing the water sports this amazing city is famous for. Private luxury yacht or boat charters are well-equipped with water sports equipment including kayak, so no need to rent it from any shop. Just hop aboard your yacht, sail to the destination of your choice and launch your kayak to start a blissful journey on the Seattle waters.
Where should you paddle? What is there to see while kayaking in Lake Union?
Once you have got your gear and you're on the water, there's a lot to check out and explore. If you're in the Lake Union, you'll find yourself surrounded by float planes taking off and landing, giant yachts, speedboats, tour vessels, Seattle boat rentals, tiny sailboats, stand-up paddle-boarders (SUPs) and lots more. If the luck is at your side, you might spot a Harbor Seal. The lake itself is surrounded by the city skyline to the south, Capitol Hill to the east, Queen Anne Hill and the Space Needle to the west, and the Walling Ford neighborhood to the north. Other sights to catch while kayaking in Seattle includes:
Explore the Gas Work's Park – At the very north end of the lake where the shore curves is located Seattle's great secret park - Gas Work's Park. This park is considered the best place to fly kites. While Kayaking take in the panoramic views of this public park which was once the site of the former Seattle Gas Light Company gasification plant.
Head to the Fremont Bridge – Head up the northwest arm that leads out of Lake Union and paddle beyond the Aurora and Fremont Bridges to see Seattle's maritime community. Take in the amazing views of tugboats and trawlers, and even a handful of dry-docks.
Tour around "Sleepless in Seattle" houseboats – Paddle around the gorgeous houseboats shown in the 1993 film "Sleepless in Seattle" and take in the mesmerizing views surrounding them. Once you're done with paddling around these beautiful houseboats, treat your taste buds with mouthwatering seafood before setting out for next kayaking adventure.
Now you know what to wear when you go kayaking in Seattle and a few of the many cool things to see while enjoying this adventurous activity in Seattle aboard your own private Seattle boat rentals. If you found these hints helpful, get ready, set and go for a Happy Kayaking Adventure Escapade!