Seattle Washington is full of entertainment, amazing views, beautiful landscape and surrounded by the gorgeous waters of the Pudget Sound on the west, Lake Washington on the east & Lake Union on the north. When it comes to sport fishing, Seattle is home to some of the most popular species of salmon including the Pink Salmon, Sockeye Salmon, Chum Salmon, Silver Salmon, and the legendary King Salmon along with a number of amazing fish species that are native to freshwater lakes. With varieties of fish available year round, it is no wonder why Seattle and its nearby locations continue to be a favorite fishing charter destination among avid anglers and beginners alike. So, if you're a fishing enthusiast, look for these fishing hot-spots in and near Seattle.
#1 Lake Washington
Lake Washington – a freshwater lake adjacent to the city of Seattle – is open to fishing year-round and holds dozens of fish species. The best fishing spots in the lake are along the I-90 and Evergreen floating bridges and also on the southern side of Mercer Island and Rainier Beach Park. Although Lake Washington offers the best trout fishing opportunities, it also boasts of more than 40 fish species including Coastal Cutthroat Trout, Rainbow Trout, Largemouth Bass, Smallmouth Bass, Yellow Perch, and Black Crappie.
#2 Elliott Bay
Elliott Bay – a part of the Central Basin region of Puget Sound – is a prime location near Seattle for catching salmon, rockfish, lingcod, squid, dungeness crab, halibut, sturgeon and many more. Elliot bay fishing pier, which is located on Terminal 86 near Seattle, is a great spot for fishermen of all ages. The Elliott Bay waterfront park that spans from Pier 57 to Pier 59 is another great fishing spot near this Washington City.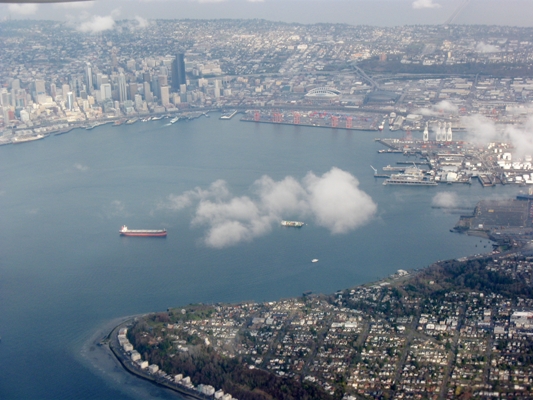 #3 Lake Union
Lake Union is a freshwater lake nestled within the heart of Seattle. You can use the Montlake Cut of Lake Union as the pathway to Lake Washington. Several species of fish thrive in this freshwater lake. Primary fish that are found in the waters of Lake Union include small-mouth bass, perch, bluegills, bullheads, whitefish, bigmouth bass, crappie and trout, but occasionally, you can also catch salmon, sturgeon and small shark here as well. If none of these fish species are of interest, you can always head to the less-crowded Fairview Park (located on the eastern shoreline of Lake Union) for catching sucker fish, perch, and bream during the months of March-October.
#4 Green Lake
Green Lake is a freshwater lake located in north central Seattle within Green Lake Park. This freshwater lake is considered as the best trout fishing area in western Washington. Trout varieties such as Rainbow Trout and Brown Trout are readily catchable year-round. Another main fish found in Green Lake is channel catfish, and the best months to catch channel catfish are from May through October. Other fish species that are found in this lake include Common Carp, Largemouth Bass, Rock Bass, Pumpkinseed Sunfish and Brown Bullhead.
#5 Union Bay
Union Bay is another well-known fishing spot located in Lake Washington. Small boat rentals or fishing charters from Seattle are available in this area for experienced boaters or first-time fishermen. Here you will catch steelhead trout, salmon and other fish species including largemouth bass, bullhead, bluegill and bream.
Novice or expert, these fishing spots are a great place to enhance your angling experience. Pack your fishing gear, book your Seattle fishing charter and head to these fantastic fishing destinations in and near downtown Seattle for spending an amazing day doing what you love – fishing!