Fly fishing is a year around endeavor in the Seattle waters, which dramatically changes with every season. Puget Sound, surrounding the Seattle city, provides 365 days of saltwater fishing opportunities for catching a variety of fish species such as native sea run cutthroat, coho, pink and chum salmon. The City of Seattle is nestled amongst some of the best fly fishing destinations in Washington State. Within 1 to 3 hours of sailing aboard your own private fishing charters from Seattle, numerous fantastic fly fishing locations exist. Get ready for your fly fishing excursion by understanding what exactly you need for this adventurous activity and where to take your chartered boat in Seattle for the best fly fishing experience..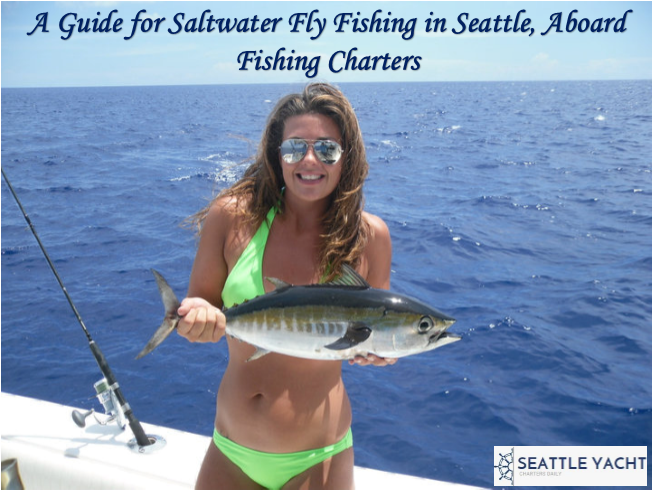 WHAT IS MEANT BY FLY FISHING?
Fly fishing is different than the standard fishing because of the amount of motion it involves. When people do fish in what is considered the normal way, they cast their line once in a while and then let it sit, hoping their bait will attract a large fish with an appetite. However, the synthetic lure, called a fly, is usually cast far from the fisher, which is then allowed to either float or sink, depending on the water type, fish type, and style preferred by the individual fisherman. It might require more physical work than the traditional fishing, but the end results can be amazing.
FLY FISHING REQUIRES CERTAIN GEAR
The standard fishing pole with a rigid back and covered reel is not suitable for fly fishing, however, exceptions are always there. Actually a fly fisher needs a fly rod. These are available in various weights and strengths, depending on the kind of fish you're after. A 9-weight rod will be strong enough to reel in your trophy catch. You also need a higher-quality reel.
WHICH ONE TO BUY: A FULL FLEX OR TIP STIFF ROD?
It is completely your choice – what kind of rod you want to go for, whether the one that has more flexibility or the one that is stiffer. Often those, who are at a learning stage of fly fishing, start out with a full flex rod, as tip stiff rods require more fitness than what the average beginner possesses. The biggest advantage of the stiff tip rods is that it helps to ensure better casting when working with a heavier lure or a long cast. While, the full flex rods are generally preferable for lighter lines and shorter casts.
HOW TO SAVE ON FLYING FISHING ADVENTURE
While enjoying the holidays upon a private yacht in Seattle, fish rods, reels, and other accessories for fly fishing are provided by the fishing charters in Seattle. The flying fishing equipment can be expensive which is often a turn off from the whole concept. A great way to save money on your fishing adventure is to book a private yacht charter as they provide the facility too along with their 5-star hospitality services & luxurious accommodation.
PRACTICE YOUR CASTING
The importance of practicing your cast cannot be overlooked. The way you cast, and the power behind it, can make all the difference in the world when it comes to successfully catching the fish that you are looking for. Under the guidance of an expert aboard the fishing charter in Seattle, follow the instructions, and then try your hand at fly fishing. Learning will typically take a day or two and then you will be all ready to hit the water!
BEST FLY FISHING DESTINATION IN AND NEAR SEATTLE
The following are a few of the many good spots that are fished regularly by fishers either by boat or from the beach. They are: Tacoma Narrows, Agate Pass, Point No Pointa, Kitsap Peninsula, Hood Canal, the various inlets in the Olympia area, and Greenbacks in the Sound area.
If you've been looking for an excuse to get together with your buddies and reunite for a memorable guy's weekend, there's no better experience than a guided fly fishing trip on the private luxury fishing charters in Seattle. No matter how experienced and seasoned you are as a fisherman, saltwater fly fishing can be fun and challenging to make your excursion a memorable fiesta.